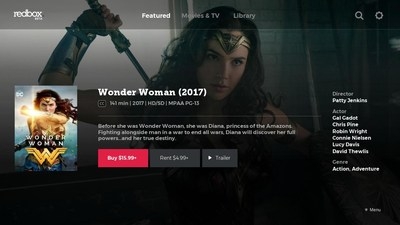 Entertainment
Redbox Rolls Out On Demand Service
December 18, 2017
By Alexandra Scarborough, Close-Up Media Staff
Redbox has rolled out Redbox On Demand.
Redox said the new On Demand service, now in public beta, complements its new-release offering at kiosks by delivering a broader selection of movies and TV shows via transactional video on demand (VOD) and electronic sell-through (EST).
In addition to renting and purchasing at kiosks, Redbox noted, its customers now have the option to rent or purchase for streaming. Purchased content can be downloaded, for offline, on-the-go watching.
"Redbox customers have asked, and today we're delivering an On Demand option that offers them the best of both the physical and digital worlds," said Galen Smith, CEO of Redbox. "Redbox provides our customers with choice – the value they want and expect from our kiosks, the instant gratification of On Demand rentals and purchases, and the availability of new-release content, all without monthly subscription fees."
The new On Demand service is available on the Redbox website, the Redbox app for Android and iOS-enabled devices, as well as Apple TV, Chromecast, LG and Samsung Smart TVs, and Roku.
"We know consumers have a lot of choices when it comes to subscription streaming services, but no other brand is as closely associated with new-release movies as Redbox," added Smith. "We've been America's choice for new content for 15 years, and we're excited to offer a new way to watch that provides greater choice within the Redbox ecosystem."
Redbox On Demand offers many of the same new-release movies available at the Box, and also expands the library to include a growing collection of hit movies and TV shows for rental or purchase On Demand.
"The newest-release movies are not available in subscription streaming services," said Ash Eldifrawi, Chief Marketing and Customer Experience Officer at Redbox. "Redbox's stronghold on new releases has played a big factor in our ongoing relevance to consumers who crave the latest content."
Pricing for new-release On Demand rentals starts at $3.99 for 48-hour VOD rentals and $9.99 for EST transactions.
More information and complete details:
www.redbox.com
THE DAILY VIEW
Alexandra Scarborough
Tea Forté Introduces 'Matcha' Collection

Convenience meets tradition in Tea Forté's new Ceremonial Matcha Bowl Set and the Matcha Single Steeps.

The company said its spring harvested, shade grown, stone ground, organic matcha tea is best served in a centuries-old Japanese tea ceremony called chanoyu: a preparation technique known for its centering meditative qualities.

"The launch of Tea Forté's Matcha collection represents our continued commitment to wellness and cultivating all the potential mental and physical health benefits of tea," says Tea Forté CEO Michael Gebrael. "In addition to our high quality Pure Matcha, we've also blended four distinct flavored Matcha varieties. Prepackaged in pouches measured out for a single serving, our Single Steeps Matcha is ideal for the office, travel, or to keep with you for a boost anytime."

Tea Forté noted its handcrafted ceremonial tea bowl, handmade bamboo whisk and measuring ladle "encourages serene enjoyment of our premium Kosher, gluten-free and vegan matcha blends." These include: Pure Matcha, Chocolate Matcha, Coconut Matcha, Ginger Matcha, and Chai Matcha.

According to a release, in addition to its distinctive taste, matcha is prized for its health benefits. Steeped green tea contains only the antioxidants that can be extracted in water, while with matcha, the whole leaf is consumed.

Available now in select stores and online at teaforte.com.
QUICK 5

Expedia.com has released a year-end look at U.S. traveler behavior and trends for 2017, analyzing data to identify the most in-demand destinations, hotels, activities and more.
Among other insights, the roundup revealed:
Labor Day was the busiest weekend for car rental
Disney Theme Parks topped the list of things to do
The average hotel stay was two nights
Top destinations based on 2017 air travel included major global cities like New York, London and Bangkok
Popular tourist destinations included Orlando, Cancun and Las Vegas