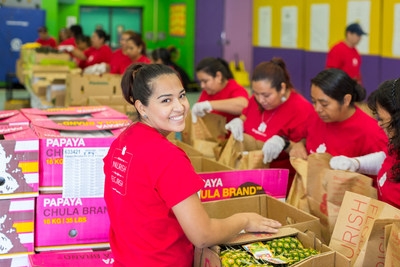 Food & Beverage
Produce Marketing Association Links with Brighter Bite to 'Grow a Healthier World'
December 18, 2017
By Caroline S. Moore, Close-Up Media Staff
The Produce Marketing Association (PMA) is partnering with Brighter Bites, a nonprofit that delivers fresh produce and nutrition education to families in underserved communities, to help empower healthy families and boost produce consumption.
"At PMA, our vision is to grow a healthier world," said PMA CEO Cathy Burns. "Being able to grow healthier families through this community-based program helps PMA and our members bring that vision to life."
According to a release, Brighter Bites was inspired and created by a mom who changed her children's eating habits. She envisioned creating the same change in underserved communities by channeling surplus produce to families, meeting them where their kids are – at school and summer programs.
Since its inception (2012), Brighter Bites noted, it has delivered more than 15 million pounds of fresh produce to over 30,000 families. The program seeks to change behavior among children and their families – go to increase produce consumption to achieve long-term health. The program is simple: produce distribution, nutrition education and a fun food experience.
"At Brighter Bites, we get produce into families' homes by using the schools as delivery vehicles, and changing the school and the home environments simultaneously," said Lisa Helfman, founder and board chair. "We started in one Texas city, expanded to three, and have launched in Washington, D.C., and New York City, and we're moving into southwest Florida next.
"Brighter Bites has grown because it works, but also because we have incredible partners. The produce industry has bent over backwards to ensure we have enough product for 50 servings of produce per family each week," she said. "We are thrilled that the produce industry has decided to help us create long-term change in the underserved communities."
Burns said: "I'm humbled, but not surprised, by the response from the produce community as they provide produce, distribution logistics, and financial resources to Brighter Bites."  
THE DAILY VIEW
Alexandra Scarborough
Tea Forté Introduces 'Matcha' Collection

Convenience meets tradition in Tea Forté's new Ceremonial Matcha Bowl Set and the Matcha Single Steeps.

The company said its spring harvested, shade grown, stone ground, organic matcha tea is best served in a centuries-old Japanese tea ceremony called chanoyu: a preparation technique known for its centering meditative qualities.

"The launch of Tea Forté's Matcha collection represents our continued commitment to wellness and cultivating all the potential mental and physical health benefits of tea," says Tea Forté CEO Michael Gebrael. "In addition to our high quality Pure Matcha, we've also blended four distinct flavored Matcha varieties. Prepackaged in pouches measured out for a single serving, our Single Steeps Matcha is ideal for the office, travel, or to keep with you for a boost anytime."

Tea Forté noted its handcrafted ceremonial tea bowl, handmade bamboo whisk and measuring ladle "encourages serene enjoyment of our premium Kosher, gluten-free and vegan matcha blends." These include: Pure Matcha, Chocolate Matcha, Coconut Matcha, Ginger Matcha, and Chai Matcha.

According to a release, in addition to its distinctive taste, matcha is prized for its health benefits. Steeped green tea contains only the antioxidants that can be extracted in water, while with matcha, the whole leaf is consumed.

Available now in select stores and online at teaforte.com.
QUICK 5

Expedia.com has released a year-end look at U.S. traveler behavior and trends for 2017, analyzing data to identify the most in-demand destinations, hotels, activities and more.
Among other insights, the roundup revealed:
Labor Day was the busiest weekend for car rental
Disney Theme Parks topped the list of things to do
The average hotel stay was two nights
Top destinations based on 2017 air travel included major global cities like New York, London and Bangkok
Popular tourist destinations included Orlando, Cancun and Las Vegas