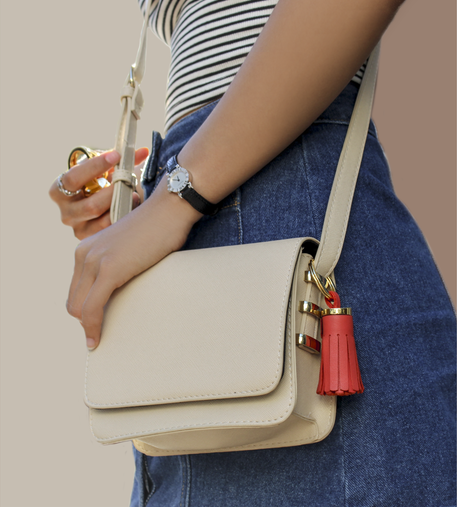 Health & Beauty
Looper - A Tassel with Smarts
July 27, 2016
By Alexandra Scarborough, Close-Up Media Fashion Writer Calling everyone with a tendency to lose or misplace things such as mobile phones, bags or sunglasses, there is some snazzy technology that can help you keep, track and find your belongings. Called Looper, it's a tassel with smart tracking capabilities. Featured on Kickstarter, Looper is created by IDIO Creative Works. "At IDIO, we believe that technology shouldn't be a separate entity from our lives," says CEO Nick Lee. "Instead, it should be integrated into life through creative solutions to frustrating problems . . . When designing Looper, we wanted to take tracker technology, which can seem too technical and foreign to the average consumer, and build it into something that we all love and are familiar with – a tassel. As a trendy fashion item, we see tassels everywhere: on designer bags, as keyring accessories, and so on. The tassel is the perfect accessory, but hidden inside is tracker technology that has great potential to benefit our lives." Made of Italian leather, Looper can attach to standard key rings and straps - and can even be used to keep track of pets. The Looper mobile app pairs with the Bluetooth sensor inside the accessory and can also pair with other Bluetooth-capable devices. According to a release, there are several key functions within Looper. If the distance between Looper and the user becomes too great, both Looper and the app will sound an alarm. If users have trouble finding their lost or misplaced Looper attached to their belongings, they can use the app to make Looper ring.  On the other hand, if users have trouble finding their phone, they can press a small button on Looper to ring the phone. Users also can take advantage of a GPS-powered map and the ability to turn the tool off when it's not needed. The device's battery life is at least one year via its patented low battery usage algorithm, the company said. The first production run of the Looper fashion accessory and smart tracking device is set for this fall, with the first shipment expected in November. More information:
kck.st/29PkaXL ((Comments on this story may be sent to newsdesk@closeupmedia.com))
THE DAILY VIEW
Alexandra Scarborough
Gilt and Sarah Jessica Parker Unveil SJP by Sarah Jessica Parker Bridal Collection for Spring

Sarah Jessica Parker, in partnership with Gilt, kicked off the exclusive launch of SJP by Sarah Jessica Parker Bridal, Gilt's first foray into bridal ready-to-wear that would have Carrie Bradshaw swooning.

The collection includes dresses, skirts, bodysuits and other pieces, ranging in price from $295 to $2,395 and from sizes 0 to 14.

"Collaborating with Gilt on my first bridal ready-to-wear collection was an opportunity I couldn't pass up," said Sarah Jessica Parker. "The team there is brilliant and allowed me to be imaginative and take risks as I was designing for the non-traditional bride. It has been quite fun to play around with colors, fabrics and details to create unique pieces for all kinds of brides." The collection, comprised of ten styles, is inspired by Parker's vision of a modern, non-traditional bride, and is designed to dress a woman for a variety of wedding milestone moments; from her bridal shower through her wedding reception. Styles offered are a unique mix of classic dresses and gowns, modern bodysuits, full skirts, and a jumpsuit. The color palette includes traditional bridal white, sleek black, plus pops of blush, poppy, light gray and blue.

Designed in collaboration with Gilt, the collection was produced in New York City utilizing fabrics like cashmere and stretch crepe sourced from Spain, Italy and France.

The pieces all feature carefully curated details like elegant bows, sophisticated cutouts, feathers, intricate embroidery and beautiful hand-stitched beading. 

The actress and style icon is no stranger to chic bridal wear. Carrie Badshaw, famously played by Parker, took part in an elaborate bridal photo shoot in Sex and the City: The Movie. The shoot featured gowns from designers like Christian Lacroix and Lanvin. Parker famously wore a black wedding gown for her own wedding to Matthew Broderick in 1997.

"Not only is Sarah Jessica Parker's style known around the world, her point of view is one-of-a-kind," says Tom Ott, Chief Merchant of Gilt. "Sarah Jessica brings her impeccable taste and fashion sensibility to life in this collection. We think our customers will be delighted with the offering which is stylish and well-priced in the bridal category."

As part of the bridal launch, Gilt will also offer 15 exclusive styles from the SJP by Sarah Jessica Parker footwear line, each of which are complementary to the bridal collection. 

To correspond with the bridal collection launch, Gilt City will present offers from some of Sarah Jessica Parker's favorite places in New York City.

The offers were each chosen as a way to help brides plan for and celebrate the big day with highlights including, Leather Spa, Lars Nord Studio Tailoring, Mah-Ze-Dahr Bakery, among others.

More Information:
http://www.Gilt.com/SJP

Alexandra Scarborough
Tea Forté Introduces 'Matcha' Collection

Convenience meets tradition in Tea Forté's new Ceremonial Matcha Bowl Set and the Matcha Single Steeps.

The company said its spring harvested, shade grown, stone ground, organic matcha tea is best served in a centuries-old Japanese tea ceremony called chanoyu: a preparation technique known for its centering meditative qualities.

"The launch of Tea Forté's Matcha collection represents our continued commitment to wellness and cultivating all the potential mental and physical health benefits of tea," says Tea Forté CEO Michael Gebrael. "In addition to our high quality Pure Matcha, we've also blended four distinct flavored Matcha varieties. Prepackaged in pouches measured out for a single serving, our Single Steeps Matcha is ideal for the office, travel, or to keep with you for a boost anytime."

Tea Forté noted its handcrafted ceremonial tea bowl, handmade bamboo whisk and measuring ladle "encourages serene enjoyment of our premium Kosher, gluten-free and vegan matcha blends." These include: Pure Matcha, Chocolate Matcha, Coconut Matcha, Ginger Matcha, and Chai Matcha.

According to a release, in addition to its distinctive taste, matcha is prized for its health benefits. Steeped green tea contains only the antioxidants that can be extracted in water, while with matcha, the whole leaf is consumed.

Available now in select stores and online at teaforte.com.
QUICK 5

Expedia.com has released a year-end look at U.S. traveler behavior and trends for 2017, analyzing data to identify the most in-demand destinations, hotels, activities and more.
Among other insights, the roundup revealed:
Labor Day was the busiest weekend for car rental
Disney Theme Parks topped the list of things to do
The average hotel stay was two nights
Top destinations based on 2017 air travel included major global cities like New York, London and Bangkok
Popular tourist destinations included Orlando, Cancun and Las Vegas