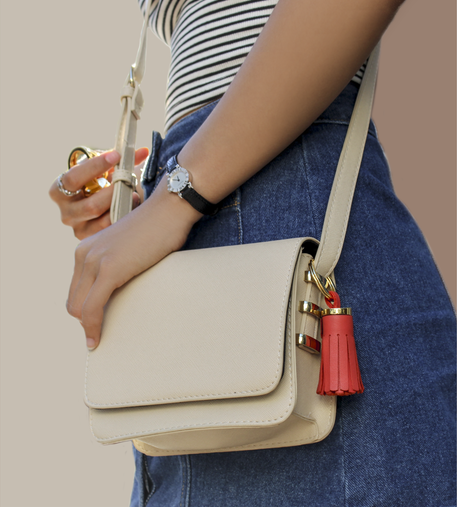 Health & Beauty
Looper - A Tassel with Smarts
July 27, 2016
By Alexandra Scarborough, Close-Up Media Fashion Writer Calling everyone with a tendency to lose or misplace things such as mobile phones, bags or sunglasses, there is some snazzy technology that can help you keep, track and find your belongings. Called Looper, it's a tassel with smart tracking capabilities. Featured on Kickstarter, Looper is created by IDIO Creative Works. "At IDIO, we believe that technology shouldn't be a separate entity from our lives," says CEO Nick Lee. "Instead, it should be integrated into life through creative solutions to frustrating problems . . . When designing Looper, we wanted to take tracker technology, which can seem too technical and foreign to the average consumer, and build it into something that we all love and are familiar with – a tassel. As a trendy fashion item, we see tassels everywhere: on designer bags, as keyring accessories, and so on. The tassel is the perfect accessory, but hidden inside is tracker technology that has great potential to benefit our lives." Made of Italian leather, Looper can attach to standard key rings and straps - and can even be used to keep track of pets. The Looper mobile app pairs with the Bluetooth sensor inside the accessory and can also pair with other Bluetooth-capable devices. According to a release, there are several key functions within Looper. If the distance between Looper and the user becomes too great, both Looper and the app will sound an alarm. If users have trouble finding their lost or misplaced Looper attached to their belongings, they can use the app to make Looper ring.  On the other hand, if users have trouble finding their phone, they can press a small button on Looper to ring the phone. Users also can take advantage of a GPS-powered map and the ability to turn the tool off when it's not needed. The device's battery life is at least one year via its patented low battery usage algorithm, the company said. The first production run of the Looper fashion accessory and smart tracking device is set for this fall, with the first shipment expected in November. More information:
kck.st/29PkaXL ((Comments on this story may be sent to newsdesk@closeupmedia.com))
THE DAILY VIEW
Alexandra Scarborough
Papyrus Joins Forces with Designer Lela Rose

Papyrus is looking to bring the "elegance and style" of fashion to its greeting cards via a new designer collaboration series.

According to a release, the collaboration marks the first time a fashion design house and greeting card brand have joined forces to develop a custom greeting card collection.

Papyrus said it is partnering with American fashion designer Lela Rose to introduce the series. Rose will feature her "sophisticated yet modern style" in the debut card and gift collection, slated to launch during New York Fashion Week. The collection will be available in New York City Papyrus stores and select retailers in September, with availability expanding to all Papyrus locations and retailers in October.

"The fashion designer collaboration series is a celebration of the commitment Papyrus has to the arts, including a focus on the fashion industry, quality craftsmanship and trend-forward design," said Christy Kaprosy, President of Papyrus-Recycled Greetings. "We are delighted to have Lela Rose's elegant line lead the first Papyrus fashion designer collaboration program, and we are excited to bring more fashion designers to our loyal customers in the future."

The company noted the collection, which draws inspiration from some of Rose's recent runway designs, consists of 16 cards and five gift accessories, including gift bags, gift tissue, roll wrap and a gift tag set. It also will be available online at papyrusonline.com

"I'm thrilled to be the first designer to collaborate with Papyrus on their exclusive new fashion series," said Lela Rose. "This is a unique way to showcase our designs, silhouettes and prints, and extend the brand into a new category."
QUICK 5
Ebola Philanthropy
Big Gift: Bill Gates, founder and co-chair of the Bill & Melinda Gates Foundation, has committed $50 million to fight the epidemic.
Early Donation: In August, Paul G. Allen Family Foundation donated $2.8 million toward the outbreak in West Africa.
Latest Pledge: Facebook founder Mark Zuckerberg and his wife Priscilla Chan this month pledged $25 million to the CDC.
Corporate Funds: World Bank Group in August pledged up to US $200 million in emergency funding to help Guinea, Liberia, and Sierra Leone contain the spread of infections.
Crowdfunding: Scripps Research Institute's Erica Ollman Saphire seeks to raise $100K for equipment to speed her work, partially funding by U.S. government.