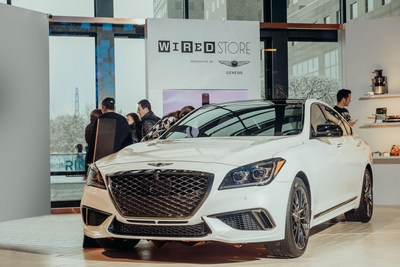 Business Tech & Wireless
Genesis G80 Sport Spotlights Connected Technology at Wired Store
December 18, 2017
By Mae Marie, Close-Up Media Staff
The Genesis G80 Sport is taking center stage at the Wired Store in Manhattan this season.
The luxury mid-size sedan is on display until December 22 at Brookfield Plaza, where shoppers can see demonstrations of the G80 model line's connected technology, alongside a selection of other smart, connected products.
The Wired Store is Genesis brand's second partnership following a pop-up in Santa Monica, Calif., this summer. The store includes two dedicated activation areas – courtesy of a Google Home, and an iPad Pro – where guests may interact with the G80's standard Genesis Connected Services technology. Guests may prompt either device to send a destination to the car's navigation system or to remotely engage the vehicle's locks and lights. A popular feature with Genesis clientele during warm and cold seasons alike -- remote starting the car with preferred climate control settings -- won't be demonstrated during the indoor display.
To kick off the Wired Store, Wired's Jason Tanz, and Genesis' brand ambassador, Wesley Chan, Managing Director at Felicis Ventures, and previously a General Partner at Google Ventures, hosted an invitation-only event, discussing "The Future of Our Connected World" and a tour of the store on Wednesday, December 13.
Genesis Motor America, headquartered in Fountain Valley, Calif., distributes, markets and services Genesis vehicles in the U.S. The Genesis company is a spinoff of South Korean car maker Hyundai. The company aims to launch a total of six new Genesis models by 2021
More information:
www.genesis.com
http://store.wired.com
THE DAILY VIEW
Alexandra Scarborough
Tea Forté Introduces 'Matcha' Collection

Convenience meets tradition in Tea Forté's new Ceremonial Matcha Bowl Set and the Matcha Single Steeps.

The company said its spring harvested, shade grown, stone ground, organic matcha tea is best served in a centuries-old Japanese tea ceremony called chanoyu: a preparation technique known for its centering meditative qualities.

"The launch of Tea Forté's Matcha collection represents our continued commitment to wellness and cultivating all the potential mental and physical health benefits of tea," says Tea Forté CEO Michael Gebrael. "In addition to our high quality Pure Matcha, we've also blended four distinct flavored Matcha varieties. Prepackaged in pouches measured out for a single serving, our Single Steeps Matcha is ideal for the office, travel, or to keep with you for a boost anytime."

Tea Forté noted its handcrafted ceremonial tea bowl, handmade bamboo whisk and measuring ladle "encourages serene enjoyment of our premium Kosher, gluten-free and vegan matcha blends." These include: Pure Matcha, Chocolate Matcha, Coconut Matcha, Ginger Matcha, and Chai Matcha.

According to a release, in addition to its distinctive taste, matcha is prized for its health benefits. Steeped green tea contains only the antioxidants that can be extracted in water, while with matcha, the whole leaf is consumed.

Available now in select stores and online at teaforte.com.
QUICK 5

Expedia.com has released a year-end look at U.S. traveler behavior and trends for 2017, analyzing data to identify the most in-demand destinations, hotels, activities and more.
Among other insights, the roundup revealed:
Labor Day was the busiest weekend for car rental
Disney Theme Parks topped the list of things to do
The average hotel stay was two nights
Top destinations based on 2017 air travel included major global cities like New York, London and Bangkok
Popular tourist destinations included Orlando, Cancun and Las Vegas