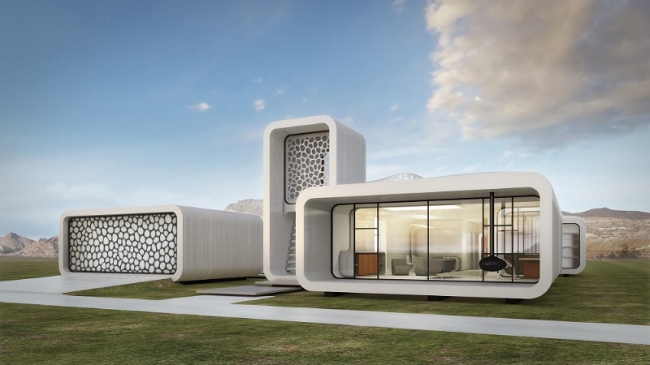 Business Tech & Wireless
Museum of the Future to Create World's First 3D Printed Office in Dubai
September 8, 2015
By Zach Seymour, Close-Up Media Staff Writer
In a move that gives new meaning to "high-tech" office design, the Museum of the Future in Dubai plans to build the first fully functional 3D-printed building.
"This building will be a testimony to the efficiency and creativity of 3D printing technology, which we believe will play a major role in reshaping construction and design sectors. We aim to take advantage of this growth by becoming a global hub for innovation and 3D printing. This is the first step of many more to come," said H.E Excellency Mohammed Al Gergawi, UAE Minister Of Cabinet Affairs and The Chairman of UAE National Innovation Committee.
The building will be located close to the 'Museum of the Future,' which was launched earlier this year in Dubai, and will act as temporary headquarters for its staff. It will be approximately 2,000 square feet in size and will be printed layer-by-layer using a 20-foot tall 3D printer and then assembled on site in a matter of weeks. All interior furniture, detailing, and structural components will also be built using 3D printing technology.
The project is the first major initiative of the 'Museum of the Future' and is part of a larger partnership between Dubai and WinSun Global - a joint venture between Chinese 3D printing technology firm WinSun and international investors - along with global architecture and engineering firms Gensler, Thornton Thomasetti, and Syska Hennessy.
The building's design is based on research about the requirements of future work and represents the latest thinking in workplace design. The space is open and flexible, allowing for a range of uses and team sizes, and will bring together professionals, community members, and experts through a mix of public and private events. It will also feature a small digital fabrication facility and a 3D printing exhibition space.
According to the museum, the project marks the beginning of a transformation in the construction and design sector - the shift to 3D printing and digital fabrication. Although long tested in labs, 3D printing technology is rapidly coming of age.
In addition, the museum said experts estimate that 3D printing technology can reduce production times by 50 to 70 per cent, reduce labor costs by 50 to 80 per cent, and can save between 30 and 60 per cent of construction waste.
((Comments on this story may be sent to newsdesk@closeupmedia.com))
THE DAILY VIEW
Alexandra Scarborough
Tea Forté Introduces 'Matcha' Collection

Convenience meets tradition in Tea Forté's new Ceremonial Matcha Bowl Set and the Matcha Single Steeps.

The company said its spring harvested, shade grown, stone ground, organic matcha tea is best served in a centuries-old Japanese tea ceremony called chanoyu: a preparation technique known for its centering meditative qualities.

"The launch of Tea Forté's Matcha collection represents our continued commitment to wellness and cultivating all the potential mental and physical health benefits of tea," says Tea Forté CEO Michael Gebrael. "In addition to our high quality Pure Matcha, we've also blended four distinct flavored Matcha varieties. Prepackaged in pouches measured out for a single serving, our Single Steeps Matcha is ideal for the office, travel, or to keep with you for a boost anytime."

Tea Forté noted its handcrafted ceremonial tea bowl, handmade bamboo whisk and measuring ladle "encourages serene enjoyment of our premium Kosher, gluten-free and vegan matcha blends." These include: Pure Matcha, Chocolate Matcha, Coconut Matcha, Ginger Matcha, and Chai Matcha.

According to a release, in addition to its distinctive taste, matcha is prized for its health benefits. Steeped green tea contains only the antioxidants that can be extracted in water, while with matcha, the whole leaf is consumed.

Available now in select stores and online at teaforte.com.
QUICK 5

Expedia.com has released a year-end look at U.S. traveler behavior and trends for 2017, analyzing data to identify the most in-demand destinations, hotels, activities and more.
Among other insights, the roundup revealed:
Labor Day was the busiest weekend for car rental
Disney Theme Parks topped the list of things to do
The average hotel stay was two nights
Top destinations based on 2017 air travel included major global cities like New York, London and Bangkok
Popular tourist destinations included Orlando, Cancun and Las Vegas