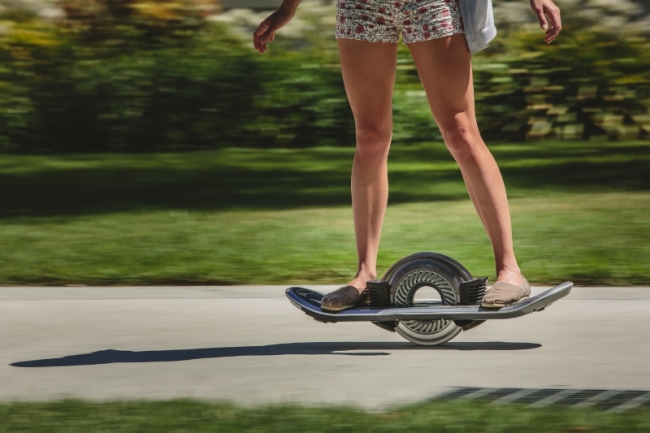 Manufacturing
The Hoverboard to Roll Out on the Consumer Market
September 8, 2015
By Alexandra Scarborough, Close-Up Media Staff Writer
The long awaited personal traveler from the future is finally here. Serial Entrepreneur and Inventor, Robert Bigler, introduced the Hoverboard, a personal electric vehicle to be launched on Kickstarter soon.
Bigler explains, "I dreamt of a personal electric vehicle that would produce the sensation of surfing on land."
The Hoverboard is geared towards the higher-end consumer market. Bigler continues, "I didn't want to approach the first real Hoverboard from the standpoint of making it a price-product. I spared no expense to make it fully, everything today's technology could possibly provide."
The Hoverboard has a single, electrically motorized, 10" diameter wheel in the center of its deck. The narrow wheel is computer-controlled and driven by as much as 5,000 watts of power to keep the rider balanced while also producing acceleration on demand.
Leaning forward initiates the Hoverboard to accelerate, and leaning back causes it to decelerate, or go the other direction. While the computer and power electronics automatically keep the Hoverboard under the rider front-to-back, the riders themselves develop the skill to balance side to side, maneuver and ultimately "carve."
Hoverboard specifications:
−Range: 12 Miles with the Standard Battery, over 20 Miles with Extended Battery
−Weight: 25 Pounds
−Charging Time: 16 Minutes with Supercharger or 1 hour with standard charger
−Top Speed: 20 mph
The Hoverboard features onboard lighting, speakers to play music, ground-detecting sonar to keep the Hoverboard parallel to the changing ground, and LCD displays for active parameter monitoring while riding.
Bigler, in an effort to empower tool-handy owners, he introduced the Hoverboard OPEN. Owners are not only allowed to open their Hoverboards - they are encouraged to do so. Many service and repair tasks can be conducted by the owners themselves. This also means that the Hoverboard can be User-Upgraded.
To boost an owner's personal connection to their Hoverboard, it has also been made User-Programmable through a simple programming language called Hoverscript. An extension of BASIC, Hoverscript is easily learned by people with no previous programming experience. This programmability eliminates all boundaries to the owner's ability to completely personalize their own Hoverboard.
The Kickstarter campaign launches Sept. 17th.
More Information:
http://www.hoverboard.com
THE DAILY VIEW
Alexandra Scarborough
Papyrus Joins Forces with Designer Lela Rose

Papyrus is looking to bring the "elegance and style" of fashion to its greeting cards via a new designer collaboration series.

According to a release, the collaboration marks the first time a fashion design house and greeting card brand have joined forces to develop a custom greeting card collection.

Papyrus said it is partnering with American fashion designer Lela Rose to introduce the series. Rose will feature her "sophisticated yet modern style" in the debut card and gift collection, slated to launch during New York Fashion Week. The collection will be available in New York City Papyrus stores and select retailers in September, with availability expanding to all Papyrus locations and retailers in October.

"The fashion designer collaboration series is a celebration of the commitment Papyrus has to the arts, including a focus on the fashion industry, quality craftsmanship and trend-forward design," said Christy Kaprosy, President of Papyrus-Recycled Greetings. "We are delighted to have Lela Rose's elegant line lead the first Papyrus fashion designer collaboration program, and we are excited to bring more fashion designers to our loyal customers in the future."

The company noted the collection, which draws inspiration from some of Rose's recent runway designs, consists of 16 cards and five gift accessories, including gift bags, gift tissue, roll wrap and a gift tag set. It also will be available online at papyrusonline.com

"I'm thrilled to be the first designer to collaborate with Papyrus on their exclusive new fashion series," said Lela Rose. "This is a unique way to showcase our designs, silhouettes and prints, and extend the brand into a new category."
QUICK 5
Ebola Philanthropy
Big Gift: Bill Gates, founder and co-chair of the Bill & Melinda Gates Foundation, has committed $50 million to fight the epidemic.
Early Donation: In August, Paul G. Allen Family Foundation donated $2.8 million toward the outbreak in West Africa.
Latest Pledge: Facebook founder Mark Zuckerberg and his wife Priscilla Chan this month pledged $25 million to the CDC.
Corporate Funds: World Bank Group in August pledged up to US $200 million in emergency funding to help Guinea, Liberia, and Sierra Leone contain the spread of infections.
Crowdfunding: Scripps Research Institute's Erica Ollman Saphire seeks to raise $100K for equipment to speed her work, partially funding by U.S. government.