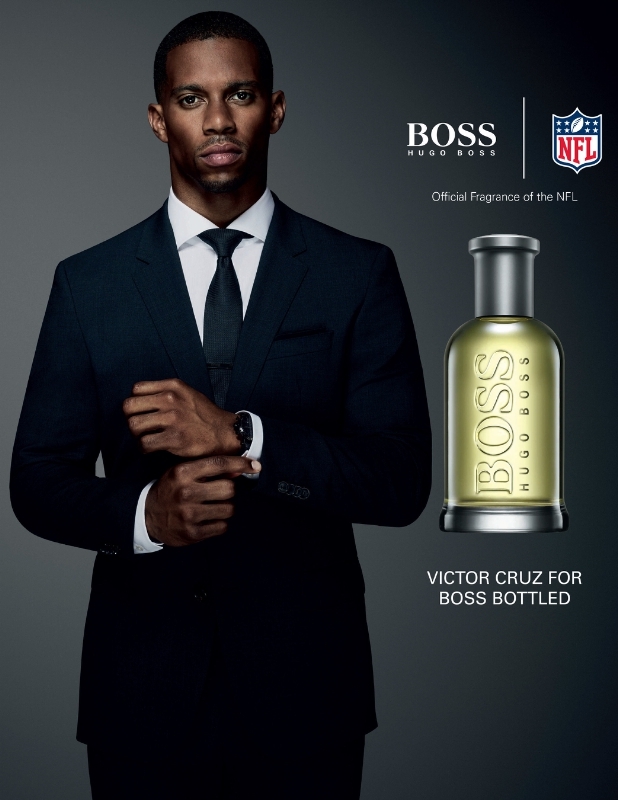 Health & Beauty
Hugo Boss Fragrances and NFL Kick Off 2015 'Success Beyond The Game' Campaign
September 9, 2015
By Alexandra Scarborough, Close-Up Media Staff Writer
Hugo Boss Fragrances and the NFL are teaming to showcase the style of the men of the NFL with the "Success Beyond the Game" campaign.
The "Success Beyond the Game" campaign highlights the many different aspects of accomplishment across all facets of a man's life.
The groups noted the men of the NFL are not only idealized for their performance on the field, but for their style off the field.
The campaign has tapped New York Giants wide receiver, Victor Cruz, to represent the collection of the brand's male fragrance classic, Boss Bottled. Cruz shares his views on success, how to achieve it and how to sustain it:
"My definition of success is reaching the pinnacle of whatever you want to achieve, either in your career or in other aspects of your life. Success is personal. Whether you aspire to be a salesperson or athlete, when you reach the top, are content and you love what you do, that is true success," said, Victor Cruz for Boss Bottled.
Boss Bottled, launched in 1998, has expanded to include Boss Bottled Night, Boss Bottled Sport, Boss Bottled Unlimited and Boss Bottled Intense, launched in 2015.
"Fragrance is one of the most important parts of my grooming routine. I like a fragrance that is clean and simplistic, yet very masculine at the same time," said Cruz.
Hugo Boss Fragrances is collaborating with retailers across the country to highlight NFL players who continue to excel off the field both in season and through retirement. Players including Jeff Saturday (Indianapolis Colts), Dan Marino (Miami Dolphins), Emmitt Smith (Dallas Cowboys), Joe Montana (San Francisco 49ers) and Matt Forte (Chicago Bears) will be on hand to meet with consumers in their local cities throughout the fall.
((Comments on this story may be sent to newsdesk@closeupmedia.com))
THE DAILY VIEW
Alexandra Scarborough
Tea Forté Introduces 'Matcha' Collection

Convenience meets tradition in Tea Forté's new Ceremonial Matcha Bowl Set and the Matcha Single Steeps.

The company said its spring harvested, shade grown, stone ground, organic matcha tea is best served in a centuries-old Japanese tea ceremony called chanoyu: a preparation technique known for its centering meditative qualities.

"The launch of Tea Forté's Matcha collection represents our continued commitment to wellness and cultivating all the potential mental and physical health benefits of tea," says Tea Forté CEO Michael Gebrael. "In addition to our high quality Pure Matcha, we've also blended four distinct flavored Matcha varieties. Prepackaged in pouches measured out for a single serving, our Single Steeps Matcha is ideal for the office, travel, or to keep with you for a boost anytime."

Tea Forté noted its handcrafted ceremonial tea bowl, handmade bamboo whisk and measuring ladle "encourages serene enjoyment of our premium Kosher, gluten-free and vegan matcha blends." These include: Pure Matcha, Chocolate Matcha, Coconut Matcha, Ginger Matcha, and Chai Matcha.

According to a release, in addition to its distinctive taste, matcha is prized for its health benefits. Steeped green tea contains only the antioxidants that can be extracted in water, while with matcha, the whole leaf is consumed.

Available now in select stores and online at teaforte.com.
QUICK 5

Expedia.com has released a year-end look at U.S. traveler behavior and trends for 2017, analyzing data to identify the most in-demand destinations, hotels, activities and more.
Among other insights, the roundup revealed:
Labor Day was the busiest weekend for car rental
Disney Theme Parks topped the list of things to do
The average hotel stay was two nights
Top destinations based on 2017 air travel included major global cities like New York, London and Bangkok
Popular tourist destinations included Orlando, Cancun and Las Vegas