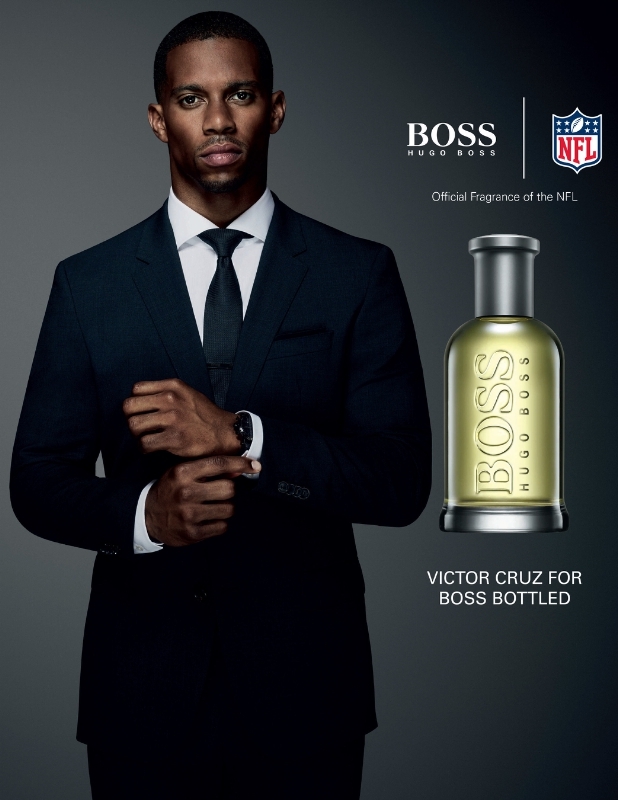 Health & Beauty
Hugo Boss Fragrances and NFL Kick Off 2015 'Success Beyond The Game' Campaign
September 9, 2015
By Alexandra Scarborough, Close-Up Media Staff Writer
Hugo Boss Fragrances and the NFL are teaming to showcase the style of the men of the NFL with the "Success Beyond the Game" campaign.
The "Success Beyond the Game" campaign highlights the many different aspects of accomplishment across all facets of a man's life.
The groups noted the men of the NFL are not only idealized for their performance on the field, but for their style off the field.
The campaign has tapped New York Giants wide receiver, Victor Cruz, to represent the collection of the brand's male fragrance classic, Boss Bottled. Cruz shares his views on success, how to achieve it and how to sustain it:
"My definition of success is reaching the pinnacle of whatever you want to achieve, either in your career or in other aspects of your life. Success is personal. Whether you aspire to be a salesperson or athlete, when you reach the top, are content and you love what you do, that is true success," said, Victor Cruz for Boss Bottled.
Boss Bottled, launched in 1998, has expanded to include Boss Bottled Night, Boss Bottled Sport, Boss Bottled Unlimited and Boss Bottled Intense, launched in 2015.
"Fragrance is one of the most important parts of my grooming routine. I like a fragrance that is clean and simplistic, yet very masculine at the same time," said Cruz.
Hugo Boss Fragrances is collaborating with retailers across the country to highlight NFL players who continue to excel off the field both in season and through retirement. Players including Jeff Saturday (Indianapolis Colts), Dan Marino (Miami Dolphins), Emmitt Smith (Dallas Cowboys), Joe Montana (San Francisco 49ers) and Matt Forte (Chicago Bears) will be on hand to meet with consumers in their local cities throughout the fall.
((Comments on this story may be sent to newsdesk@closeupmedia.com))
THE DAILY VIEW
Alexandra Scarborough
Papyrus Joins Forces with Designer Lela Rose

Papyrus is looking to bring the "elegance and style" of fashion to its greeting cards via a new designer collaboration series.

According to a release, the collaboration marks the first time a fashion design house and greeting card brand have joined forces to develop a custom greeting card collection.

Papyrus said it is partnering with American fashion designer Lela Rose to introduce the series. Rose will feature her "sophisticated yet modern style" in the debut card and gift collection, slated to launch during New York Fashion Week. The collection will be available in New York City Papyrus stores and select retailers in September, with availability expanding to all Papyrus locations and retailers in October.

"The fashion designer collaboration series is a celebration of the commitment Papyrus has to the arts, including a focus on the fashion industry, quality craftsmanship and trend-forward design," said Christy Kaprosy, President of Papyrus-Recycled Greetings. "We are delighted to have Lela Rose's elegant line lead the first Papyrus fashion designer collaboration program, and we are excited to bring more fashion designers to our loyal customers in the future."

The company noted the collection, which draws inspiration from some of Rose's recent runway designs, consists of 16 cards and five gift accessories, including gift bags, gift tissue, roll wrap and a gift tag set. It also will be available online at papyrusonline.com

"I'm thrilled to be the first designer to collaborate with Papyrus on their exclusive new fashion series," said Lela Rose. "This is a unique way to showcase our designs, silhouettes and prints, and extend the brand into a new category."
QUICK 5
Ebola Philanthropy
Big Gift: Bill Gates, founder and co-chair of the Bill & Melinda Gates Foundation, has committed $50 million to fight the epidemic.
Early Donation: In August, Paul G. Allen Family Foundation donated $2.8 million toward the outbreak in West Africa.
Latest Pledge: Facebook founder Mark Zuckerberg and his wife Priscilla Chan this month pledged $25 million to the CDC.
Corporate Funds: World Bank Group in August pledged up to US $200 million in emergency funding to help Guinea, Liberia, and Sierra Leone contain the spread of infections.
Crowdfunding: Scripps Research Institute's Erica Ollman Saphire seeks to raise $100K for equipment to speed her work, partially funding by U.S. government.