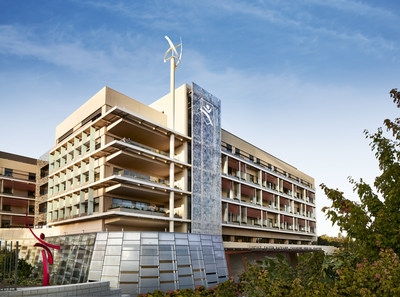 Health & Beauty
Lucile Packard Children's Hospital Stanford Opens in Palo Alto
December 18, 2017
By Susannah Blakey, Close-Up Media Staff Writer
Lucile Packard Children's Hospital Stanford has opened its new Main building and grounds.
The hospital reached the final step to announcing an opening date when it received its license from the California Department of Public Health on December 4. Designed to transform the patient and family experience, the new 521,000-square-foot building more than doubles the size of the existing pediatric and obstetric hospital campus.
The new building adds 149 patient beds for a total of 361 on the Palo Alto campus, enabling the hospital to serve more patients than ever before and allowing it to deploy awaited renovation plans for the existing hospital building.
Patient move day took place on a Saturday, when the weekly census is at its lowest. More than 100 pediatric patients will be moved from the existing hospital (now called the West building) across to the new Main building and into new acute patient care units and pediatric and cardiovascular intensive care units.
"Hundreds of staff have prepared for months and months for this day, when this new building becomes part of our working hospital," said Christopher G. Dawes, president and CEO of the hospital and Stanford Children's Health.
To run the new building, the hospital hired more than 500 new staff members in positions, ranging from nursing to food and housekeeping service roles.
Along with the patient care units, bridge corridors connecting the new Main building with the West building has also opened, along with the Dunlevie Garden, the new Harvest Café, the Family Resource Center and the Story Corner.
According to a release, the new Imaging Center features some of the most state-of-the-art technology in the hospital, including a PET/MRI that combines two important types of imaging technologies, PET (positron emission tomography) and MRI (magnetic resonance imaging). This combined modality, the only PET/MRI exclusively dedicated to pediatric patients in Northern California, allows physicians to see how diseases are behaving in the body, monitor the effects of treatment and craft treatment plans to cater to the patient's needs.
The surgical suites and neuro-interventional and catheterization labs are still under construction and are slated to open mid-year 2018.
"To say this place is extraordinary would be an understatement. The people that work inside these walls saved my daughter's life and made us feel like part of their family," Jennifer Watson said during her address at the ribbon-cutting ceremony. "To the doctors, nurses, staff and volunteers, I am so happy that you have a new home in which to continue your amazing work of healing and saving lives."
More information and complete details:
http://www.stanfordchildrens.org
THE DAILY VIEW
Alexandra Scarborough
Tea Forté Introduces 'Matcha' Collection

Convenience meets tradition in Tea Forté's new Ceremonial Matcha Bowl Set and the Matcha Single Steeps.

The company said its spring harvested, shade grown, stone ground, organic matcha tea is best served in a centuries-old Japanese tea ceremony called chanoyu: a preparation technique known for its centering meditative qualities.

"The launch of Tea Forté's Matcha collection represents our continued commitment to wellness and cultivating all the potential mental and physical health benefits of tea," says Tea Forté CEO Michael Gebrael. "In addition to our high quality Pure Matcha, we've also blended four distinct flavored Matcha varieties. Prepackaged in pouches measured out for a single serving, our Single Steeps Matcha is ideal for the office, travel, or to keep with you for a boost anytime."

Tea Forté noted its handcrafted ceremonial tea bowl, handmade bamboo whisk and measuring ladle "encourages serene enjoyment of our premium Kosher, gluten-free and vegan matcha blends." These include: Pure Matcha, Chocolate Matcha, Coconut Matcha, Ginger Matcha, and Chai Matcha.

According to a release, in addition to its distinctive taste, matcha is prized for its health benefits. Steeped green tea contains only the antioxidants that can be extracted in water, while with matcha, the whole leaf is consumed.

Available now in select stores and online at teaforte.com.
QUICK 5

Expedia.com has released a year-end look at U.S. traveler behavior and trends for 2017, analyzing data to identify the most in-demand destinations, hotels, activities and more.
Among other insights, the roundup revealed:
Labor Day was the busiest weekend for car rental
Disney Theme Parks topped the list of things to do
The average hotel stay was two nights
Top destinations based on 2017 air travel included major global cities like New York, London and Bangkok
Popular tourist destinations included Orlando, Cancun and Las Vegas